Know or Guess.
Choose Know.
FPC is a free third-party evaluation
tool to help commercial
producers, marketers, and
buyers know and share the
profit potential of their
feeder calves.
Feeder Profit Calculator
Producer
A free, simple way to market feeder calves.
Marketing
At
-

a

-

glance preconditioning,
genetic and contemporary
information.
Buyer
Easy
-

to

-

read third

-

party
valuation of  feeder calves
for lower-risk buying.
How does the Feeder Profit
Calculator
affect me?
Highlight the profit potential of your calf crop.
Put the FPC to work for YOU
I Am a Producer
No doubt, you are already busy enough. Is it really worth taking the time for the Feeder Profit Calculator with your calves? We'll let you decide.

The FPC is a service provided to you at absolutely no cost. Depending on the size and scope of your herd, the estimated time to complete the form is less than an hour. In return, you'll receive a certificate that provides a third-party view of the terminal merit of your calves and relays that information in a manner we all understand: dollars and cents. You also get a personalized assessment from the FPC staff.

How you choose to use this certificate and information is up to you. Let us help you by listing your calves and certificate on the FPC App for potential buyers to see. You can also use the information for personal farm use. At its root, the certificate is designed to be shared with your marketers and potential buyers. It allows you to highlight the profit potential of your calf crop.


No Cost
Low Risk
High Profit
Minimal Time
Customized Certificate
IGS Staff Correspondence


How does the FPC work?
Submit the FPC Input Form: 
Provide producer, management, and genetic information.
Get
one-on-one service with FPC Support
as needs arise
Receive
a finalized certificate and FPC Support response within 5 business days.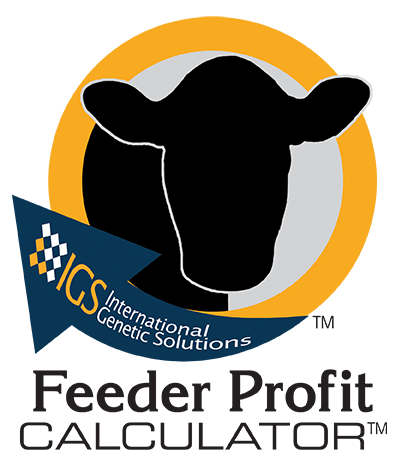 Connecting Producers and Buyers
Put the FPC to work for YOU
I Am a Marketer
The last thing any sale day needs is added stress. So, what if you could simplify and ease the experience by having more concise and clear knowledge of the lot you're about to sell? Better yet, what if it was free?

The Feeder Profit Calculator is a tool designed for commercial producers to put together calf information and receive an estimated value of those calves compared to a current average. In a single glance, that means in one glance, you can know preconditioning info, genetic merit, and where these calves stand among their contemporaries. You play an essential role in connecting producers and buyers, and the more value they see in a lot is more value for you at the end of the day.


Low Risk
High Profit
Invaluable Info
Easy to Interpret
Free and Simple
It just makes dollars and sense.
Put the FPC to work for YOU
I Am a Buyer
Much of your job at the end of the day is about ensuring profit and quality. All to often, given the lack of knowledge on a set of cattle, this can be a shot in the dark. There are many value-added programs to help minimize this, but what if there was something to condense this information into one easy-to-read format? Welcome to the IGS Feeder Profit Calculator.

The FPC has you in mind when producing a certificate for the commercial cattleman. It quickly sums up preconditioning info, genetic merit, program involvement, and values these calves based on dollars and cents to compare them to their contemporaries.
By encouraging your providers to use this free service you have the chance to make more informed, lower-risk buying decisions. It just makes dollars and sense. 
Low Risk
High Profit
Increased Calf Knowledge
Genetic Risk Management
Easy to Interpret
IGS Feeder Profit Calculator Highlights Profit, Reduces Risk
Using the IGS Feeder Profit Calculator, cattlemen are able to provide sire information— regardless of breed—as well as preconditioning, weaning, and health data in exchange for a Total Relative Value that compares the profit potential of their calves to the industry at large. That value, indicated on a formal certificate, can be used for producer benchmarking and buyer insight.
Superior Livestock Representative Clint Berry says such technology is in line with what he sees for buyer demand.  Continue reading.